SPAGHETTI CARBONARA
The original spaghetti carbonara came to us from Italy. It is a very filling and aromatic, and at the same time extremely cheap dish. It takes a few moments to prepare. The combination of pasta, eggs, bacon and cheese pampers the taste buds. Thanks to its creamy consistency, the carbonara sauce can be classified as the so-called comfort food, or dishes that are comforters on gloomy days. World Carbonara Day is celebrated on April 6. We all love pasta, especially carbonara, which is very popular with us!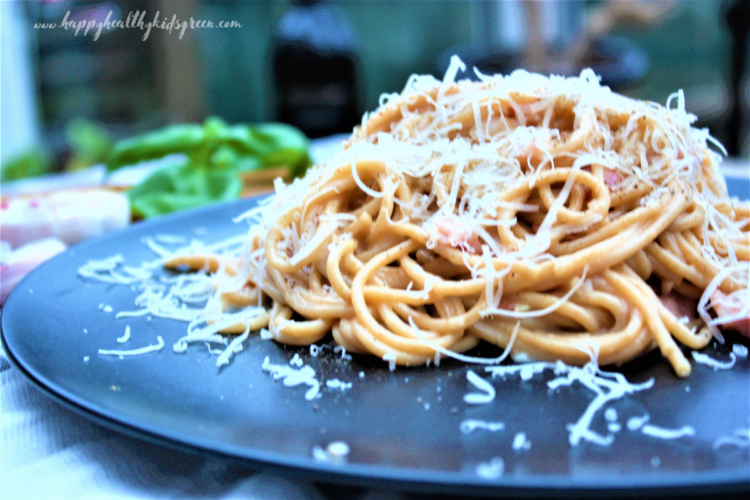 Spaghetti Carbonara
Italians are absolute masters in the field of preparing delicious, varied and full of flavor dishes with minimal effort and a small number of ingredients. Pasta carbonara is a perfect example of this.
Ingredients
2

egg

20

g

parmezan

20

g

pecorino

100

g

wholemeal spaghetti

60

g

pancetta becon

1

clove

garlic

4-6

leaves

fresh basil or parsley
Instructions
Put the water on the pasta and add to it. When it boils, add the spaghetti and set the cooking time so that the pasta is al dente.

Dice the pancetta / bacon. Peel a clove of garlic.

Beat one inch egg and yolk, mix with pecorino and parmesan cheese, and a little salt and pepper.

Put the chopped bacon on the heated frying pan, then add a whole clove of garlic. Fry for about 3-4 minutes. Remove the garlic from the pan.

Drain the spaghetti and put it in the pan. Add a few tablespoons of the water in which the pasta was cooking, mix it thoroughly so that the pasta absorbs the bacon flavor.

Take the pan off the heat and add the egg and cheese mixture. Mix thoroughly, adding cooking water if necessary, until everything is velvety smooth and creamy.

Serve sprinkled with freshly ground pepper, grated Parmesan cheese and basil or parsley.
Notes
Egg yolks are used for spaghetti carbonara. Some people add a whole egg (along with the protein) sometimes, but the base is definitely the yolk. It is thanks to him that the sauce has a creamy texture. The most difficult thing in preparing spaghetti carbonara is feeling the temperature and timing. When you pour the yolks into the pan and mix them with the noodles, the temperature must not be too high. Otherwise the yolks will set too quickly and there will be scrambled eggs. That is why Italians mix yolk sauce with noodles and hot water in a warm but not hot dish. Spaghetti carbonara tastes best immediately after preparation. If you don't like garlic, you can skip this step.
---
---