Baked Eggs in Bread Bowls with Asparagus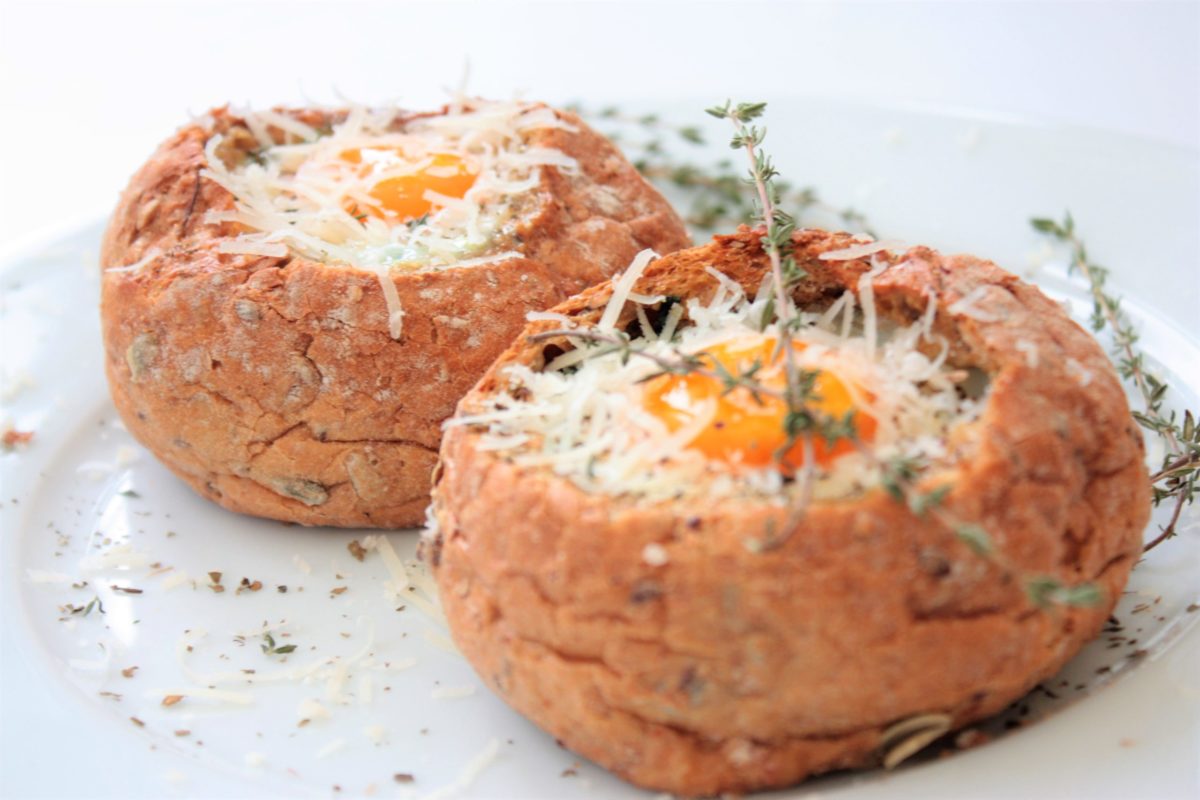 There's nothing like baked eggs for breakfast. These oven baked eggs are cooked in wholemeal bread bowls with asparagus, spinach, herbs and cheese. Easy simple and pure delicious!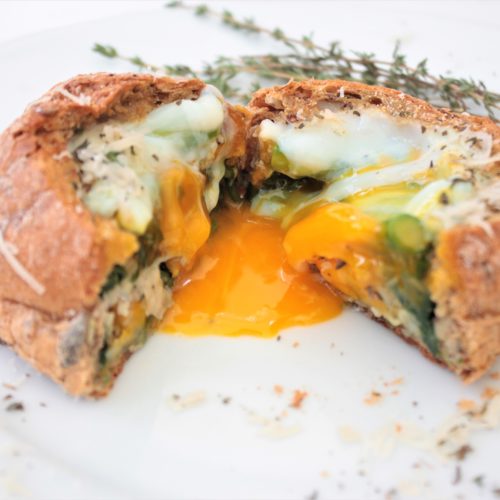 Baked Egg in Bread Bowls with Asparagus and Spinach
You've taken dinner to the next level by serving your soup in a bread bowl. Now, do the same with breakfast! This delicious dish is a whole traditional breakfast rolled into one, with the eggs baked directly inside a crisp roll, filled with asparagus and spinach and topped, of course with cheese! Watch how it all comes together and give it a try at your next brunch.
Ingredients
5

wholemeal / wholegrain rolls

1

bunch

green asparagus

200

g

spinach

4

eggs

2

tbsp

single cream

2

clove

garlic

1

tbsp

butter

1

tbsp

olive oil

extra virgin

40

g

grated cheese

parmezan or cheddar

2

pinch

salt and pepper
Instructions
Preheat oven to 350°F (180°C). Line baking sheet with parchment paper; set aside. Halve rolls horizontally; set tops aside. Hollow out bottom of rolls, leaving about 1/2-inch (1 cm) border all around. Place bread bowls on prepared tray.

Cut asparagus in 2cm length pieces, fry with 1tbsp butter and olive oil on pan for 5 minutes, add spinach and finely chopped garlic. Season with pinch of salt, peper and nutmeg ,add cream and cook for another 5 minutes until soft.

Arrange previously prepared asparagus and spinach in bottom of each bread bowl. Crack 1 egg into each bread bowl, season with salt and pepper; top with cheese.

Bake until cheese is melted, egg whites are set and yolks are cooked to desired doneness, approximately 12 to 18 minutes. Add reserved tops to baking sheet during last 5 minutes of baking time.
Notes
This egg recipe are super easy and you can adjust the cooking to soft, medium or hard boiled eggs. Love this idea! What do you think? Let me know if you give it a try!
---
---