PITAYA (Dragon Fruit)
Pitaya is an exotic fruit that is native to Mexico and Central America. It is also grown in Vietnam, the Philippines, Malaysia, Israel and China. It is called dragon fruit or strawberry pear. What are its properties and how can this fruit be used in the kitchen?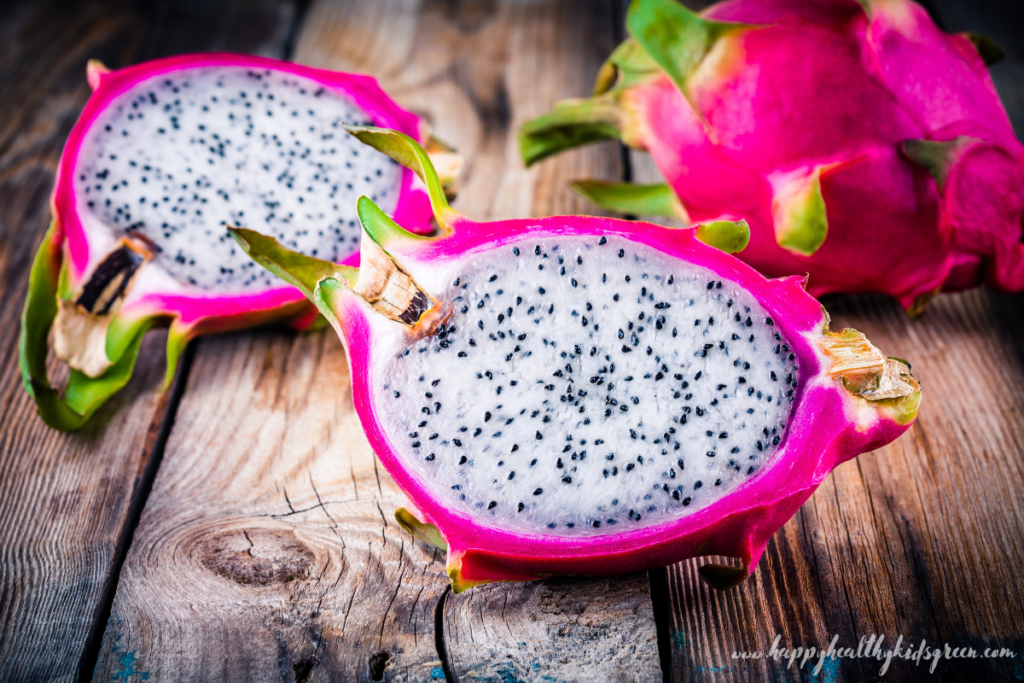 PITAYA – WHAT IS THIS FRUIT?
Pitaya is an exotic fruit of some species of cactus. It comes from the tropical regions of South America and Asia, and its name comes from the specific external structure, resembling the scales of a dragon.
The dragon fruit has an oval shape and its size resembles the fruit typical of our region. For this reason, it is sometimes called a strawberry pear.
The most popular variety is characterized by white flesh with lots of black seeds. But there are also types with a red center or yellow skin.
Pitaya flowers only bloom at night, which is why the fruit is sometimes referred to as the queen of the night or the moon flower.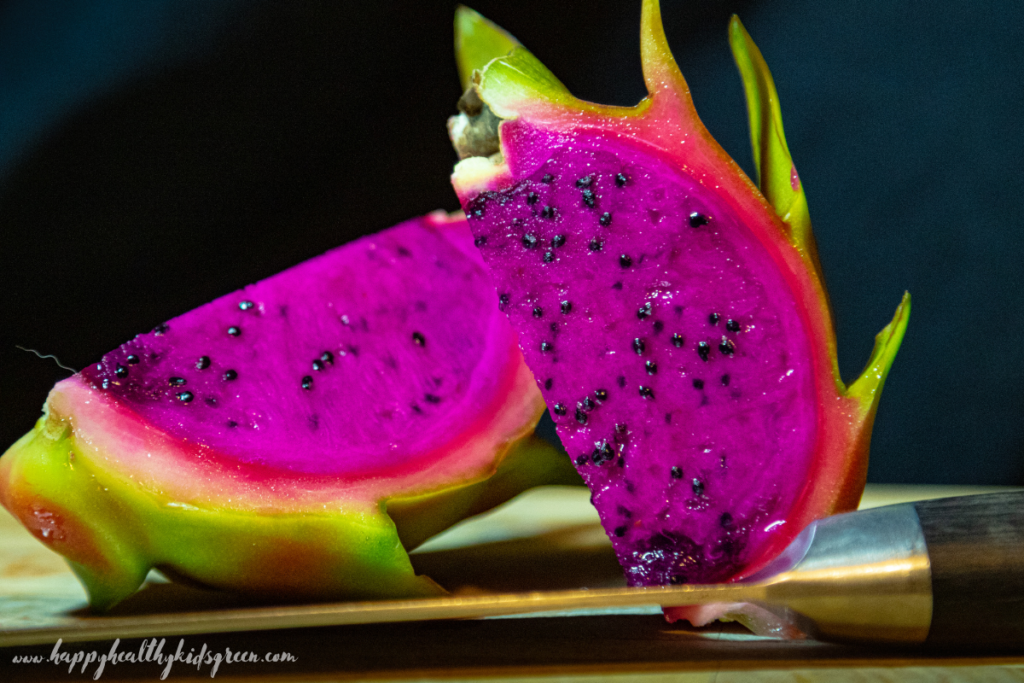 PITAYA – HOW DOES IT TASTE?
The taste of dragon fruit can be compared to kiwi or melon. The flesh is soft, juicy, slightly sweet and refreshing. It tastes best in a chilled version, because then it becomes clearer.
Strawberry pear can be eaten raw, after removing the skin. It is also suitable for desserts, as an addition to a cake, ice cream or mousse. Pitaya can also be used to make juices, wine or infusions.
PITAYA – (DRAGON FRUIT) HOW TO PEEL?
Just wash the dragonfly under running water and cut it in half. The white flesh can be eaten with a teaspoon, the black seeds are also edible. Another method is to peel the pitaya and cut it into slices.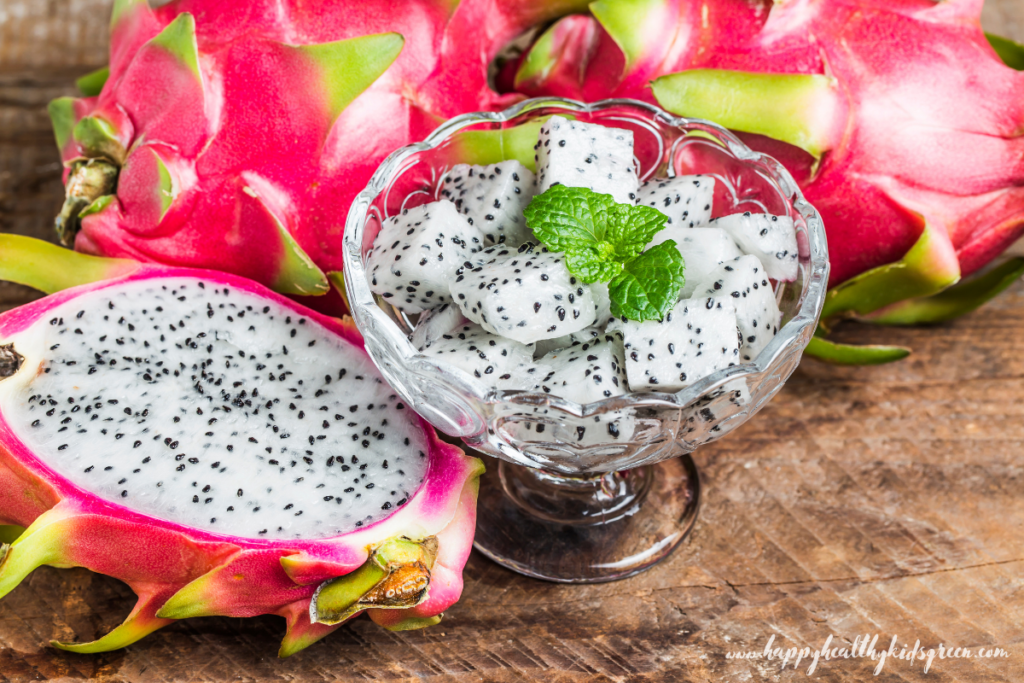 PITAYA – HOW MUCH IS AND WHERE TO BUY DRAGON FRUIT?
Pitaya is quite difficult to find in Poland, but it happens that it appears in popular supermarkets. It is best to buy it in an online store.
The price of dragon fruit is around PLN 12 (5$) per kilogram. It is worth choosing specimens that have smooth skin and that slightly bend under pressure. A hard rind means that the pitaya is not yet edible.
On the other hand, a lot of dark dots and dried-up protrusions mean that the fruit is visible. Powdered dragon fruit is also available on the market, usually costs 15-35 (7-10$) PLN per 100 grams.
PITAYA PROPERTIES
The dragon fruit has been used medicinally by the people of South America for centuries. It turns out that this is not a coincidence, because pitaya has a positive effect on the human body, supports metabolic processes and protects against diseases.
1. DIABETES PREVENTION AND TREATMENT
It is worth consuming pitaya regularly because it reduces the risk of diabetes and also works well as a complementary treatment for this disease.
All thanks to the fiber, which allows you to stabilize the blood sugar level and reduce its fluctuations. Dragon fruit also reduces the sudden spikes in blood sugar that most often occur after consuming foods with a high glycemic index.
According to research by scientists from Zhejiang University in Hangzhou, pitaya prevents the onset of obesity and related diseases, such as insulin resistance and fatty liver.
One study was performed in mice on a high-fat diet. They were given pitaya extract, which was found to cause weight loss and reduce the risk of developing overweight-related diseases.
2. SUPPORTING THE DIGESTIVE PROCESS
Pitaya has fiber in it, which helps digest food and excrete toxins from the body. Not getting enough of this substance can cause constipation, flatulence and diarrhea.
100 grams of dragon fruit equals 1.5-1.9 grams of fiber, and the dried version contains as much as 10 g in 100 g of the product. In addition, it also contains oligosaccharides that have an effect similar to probiotics and have a positive effect on the health of the digestive system.
3. A HEALTHIER HEART
Every year, millions of people die from cardiovascular diseases, for example, ischemic heart disease has now caused as many as 175 million deaths.
Research published in the Journal of Pharmacognosy Research confirmed that dragon fruit reduces the amount of bad cholesterol in the blood and at the same time supports the maintenance of an adequate level of HDL cholesterol.
Black seed, in turn, is a source of omega-3 and omega-6 fatty acids, which protect against heart and blood vessel disease.
4. ELTERNAL YOUTH
Pitai's antioxidants keep the body in good shape. In turn, vitamin C and phosphorus significantly delay the aging process of the body.
Phosphorus deficiency has a very negative effect on the body, as this mineral is present in every cell of the body and accounts for about 1 percent of the weight.
Too low concentration of the substance weakens the skin's firmness and regenerative properties of cells, therefore the body begins to look worse and worse.
In turn, the natural dyes of betalain have a strong antioxidant effect. This is especially true for people who live fast and are often stressed.
The antioxidants contained in the dragon fruit stabilize the metabolic processes taking place in the tissues and protect against oxidative stress.
5. PROTECTION AGAINST CANCER
The dragon fruit contains phytoalbumin which, in combination with vitamin C and other minerals, prevents the development of neoplastic changes.
The composition also includes lycopene, such as tomatoes. It is this substance that protects against prostate, breast, skin and liver cancer.
With the help of natural or synthetic substances, the formation of tumors is reversed, inhibited or delayed. Due to betalain, dragon fruit slows down the lipid oxidation process, which prevents the development of cancer.
At the same time, it also prevents cardiotoxicity, which often occurs after chemotherapy or radiotherapy.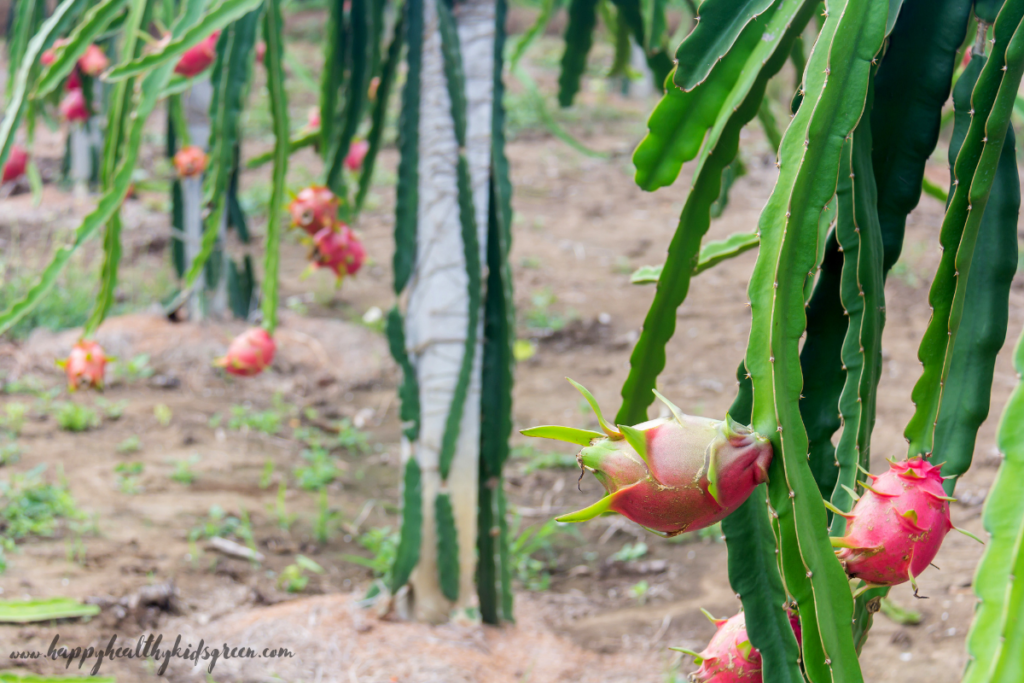 CAN PITAYA – (DRAGON FRUIT) EVERYONE EAT?
Pitaya has been shown to cause allergic reactions. They mainly occur in people who are prone to allergies, especially to fruits and plants.
In the case of birch pollen allergy, atopic dermatitis and eczema, eat a small amount of dragon fruit and monitor your well-being.
THE USE OF PITAYA IN THE KITCHEN
Pitaya is sweet, but has little flavor. Perfect as an addition to fruit salads, cakes, ice cream, creams, cocktails and mousses.
Pitaya juice, wine and tea are also very tasty. The dragon fruit flowers, on the other hand, are used to make infusions for drinking or as an ingredient in food.
The fruit can also be dried and powdered, and then poured into drinks, cocktails, smoothies and yoghurts. Powdered pitaya can also be added to desserts to enhance their flavor and health benefits.
PITAYA – NUTRITIONAL VALUES
Pitaya doesn't have very many calories, 100 grams is only 52 calories. Nutritional values (100 g):
protein – 1.4 g,
carbohydrates – 11.8 g,
fat – 0.3 g,
fiber – 1.9 g,
vitamin C – 20.5 mg,
vitamin B1 – 0.04 mg,
vitamin B2 – 0.05 mg,
vitamin PP – 0.16 mg,
vitamin B6 – 0.029 mg,
calcium – 8.5 mg,
iron – 1.9 mg,
phosphorus – 22.5 mg.
Dragon fruit belongs to the group of superfoods. It is 80 percent water, but full of vitamins and minerals.
---
---