Home Made Gnocchi Di Pattate
In fact, there are a few tricks to keep in mind to achieve the perfect recipe that only Italian grandmothers – moms and donnas know about. Discover how to prepare home made gnocchi di pattate, these soft cushions with a delicate flavor, perfect for any addition!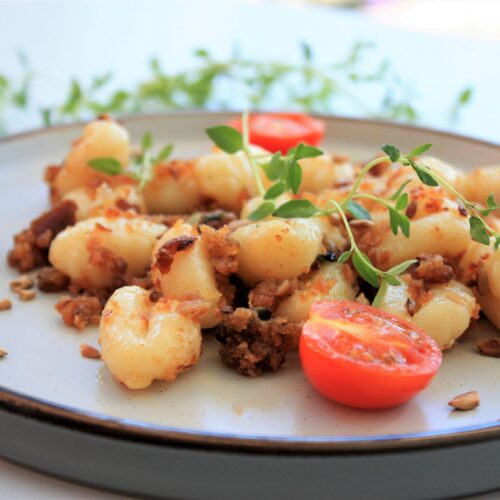 Home Made Gnocchi Di Pattate
Who has never put their hands in the preparation of these wonderful pillows with characteristic grooves? Gnocchi is the undisputed ruler of Thursday dinners, at least in Rome and some regions of central Italy. So simple but just as tricky to get the structure right. Read on to learn how to make the perfect home made gnocchi di pattate.
Ingredients
0.5

kg

old potatoes

150

g

flour type 00

1

egg

1

pinch

salt

1

semolina flour for sprinkling

2

toasted, staled rolls or bread

3

tbsp

butter
Instructions
To make potato gnocchi, start by boiling the potatoes. Put the shelled potatoes in a large pot and pour enough water to cover them. Boil the potatoes for 30-40 minutes, depending on their size.

Do the "fork test", prick them and see if they are cooked. Peel them while they are still hot, then crush them immediately with a potato press. Then add the lightly beaten egg along with a pinch of salt and knead it all with your hands until you get a soft but firm dough. Remember that if you knead too much, the gnocchi will become hard during cooking, so limit to kneading as much as necessary.

Take part of the dough and roll it out with your fingertips to make a 2 cm thick roll. To roll it up, help yourself by occasionally sprinkling the cake board with semolina. Meanwhile, cover the remaining cake with a cloth to keep it from drying out.

Then cut the rolls into pieces and, with light pressure with your thumb, run them over the mandolin for gnocchi to create a classic shape with grooves.

If you don't have a gnocchi mandolin, you can use a fork and drag it over its "inverted teeth". Again, use semolina flour to prevent them from sticking to the fork. And if you don't feel like having fun, prepare small balls the size of a walnut in your hands. Flatten it with your hands and make grooves on them with a fork from above.

If you are going to cook them right away, you can pour them into boiling salted water. As soon as they surface,

Add butter and bread crumbs on a hot pan. Fry until golden brown they are ready to be seasoned,sprinkled with bread crumbs and ready to eat. Sprinkle with parmigiano cheese.
Notes
You can serve gnocchi with basil pesto, or anything you like. 
Storing gnocchi
Potato dumplings can still be kept raw by leaving them on a cloth for a maximum of a few hours, in which case cooking will be a little longer as they dry out in the air.
You can also freeze them. In this case, put the tray of raw gnocchi in the freezer and after about 30 minutes transfer them to a zip-bag. Now you can freeze them.
To cook them, simply put the gnocchi in boiling salted water without defrosting them first. Wait for them to flow out, boiling for 2 more minutes.
Advice
Color, color, color… if you want your potato gnocchi to be more special, use coloring ingredients like turmeric for a yellowish color or a dash of tomato paste for a red color. If you prefer a darker style, add Squid Ink!
---
---