Chickpeas with Creamy Mushroom Sauce and Veg
This chickpeas dish features a deliciously creamy mushroom sauce, some crispy spiced chickpeas and Vegetables. An easy family-friendly vegetarian meal everyone loves!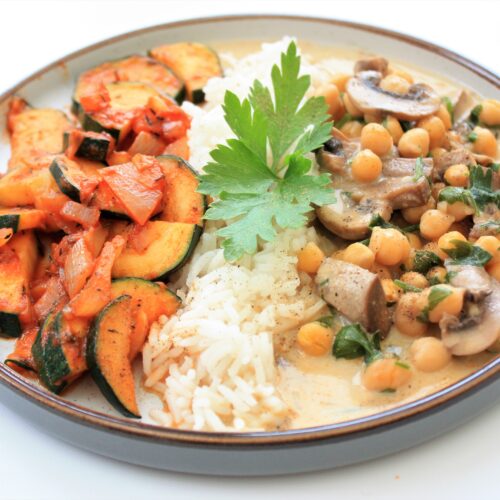 Chickpeas with Creamy Mushroom Sauce and Veg
This time I prepared chickpeas with mushrooms. All in an aromatic mushroom sauce with zucchini and onion with a bit of tomato passata. Yum – we all loved it! I encourage you to try this recipe, especially because meat is sometimes worth giving up. It is a vegetarian version
Ingredients
1

jar

chickpeas

250

g

mushrooms

1.5

cup

rice

2

tbsp

cream or coconut milk

1

clove

garlic

2

tbsp

butter

2

courgette

1

onion

2

tbsp

tomato puree or passata

4

tbsp

chopped parsley

1

pinch

salt and pepper

1

pinch

thyme

1

pinch

cumin
Instructions
Boil rice for about 10 minutes. In the meantime halve the mushrooms and then cut them into slices. Grate the garlic on a fine grater.In a frying pan, heat the butter , add the garlic and mushrooms, fry for about 5 – 7 minutes, stirring every now and then, until the mushrooms evaporate and start to brown.Then salt them, add butter and parsley and fry for about 3 minutes. Pour in the cream, season with pepper and, if necessary, salt, bring to a boil. Add checkpeas and boil another 5 minutes. To deepen the taste and color of the sauce, you can add soy sauce or Worcestershire sauce.The thickening sauce can be diluted with water, milk or broth while heating and stirring it.

Put butter on the heated frying pan. Add sliced onions and zucchini. Add spices (salt, pepper, cumin, thyme) and fry for about 5 minutes. Then add a little water, tomato passata or tomato puree, fry another 5 minutes until the vegetable are soft. Serve with rice. Enjoy!
Notes
It is best to buy a ready-made chickpeas in a jar, the canned one may contain harmful BPA.
---
---