Pineapple and Coconut Cake
Pineapple and coconut cream cake is a delicious dessert! A tasty sponge cake with a creamy, velvety, pudding mass, with pineapple pieces and a coconut layer is a baking that will work in any situation. Check out my pineapple coconut cream cake recipe!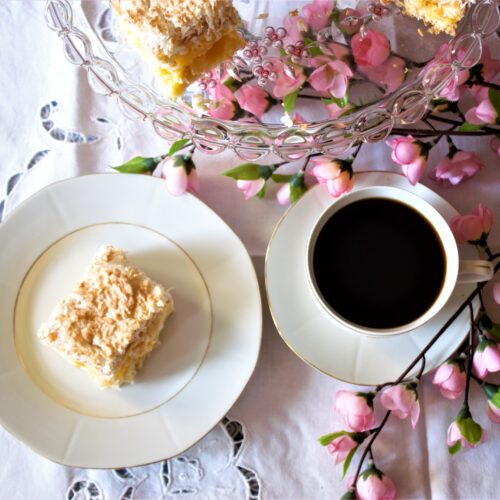 Pineapple and Coconut Cake
Delicious coconut cake with pineapple cream – Enjoy a delicious pineapple – coconut cake. It is very tasty, moist, aromatic, creamy with juicy pineapple pieces. The top is a bit crunchy, tasty, coconut meringue. All the flavors combine wonderfully and the cake looks very tasty. I recommend!
Ingredients
Sponge cake
4

whole

eggs

2

yolks

3/4

cup

of sugar/xyliol/erythritol

1

cup

of cake flour

1/2

tsp

baking powder
Pineapple pudding cream
1

a can

of pineapple

1

vanilla pudding

2

glasses

of milk

1

tbsp

of sugar/ xylitol/ erythritol

4

yolks

1

cube

of batter
Coconut base
6

proteins

1

cup

of sugar/ xylitol / erythritol

150

dag

coconut shreds
Instructions
1. Sponge cake: beat egg whites with sugar until stiff, while lightly stirring add egg yolks and flour mixed with powder. Bake for about 30-35 minutes at 170 degrees.

2. Pineapple-pudding cream: drain the juice from the can of pineapples, if necessary, add water so that there is liquid 1.5 cups.

3. Boil a glass of juice and mix the rest with the pudding powder, flour and sugar and cook the pudding.

4. After cooling down, mix with butter and egg yolks, add chopped pineapples.

5. Coconut meringue: beat egg whites until stiff with sugar, add chips. Put the meringue on a baking sheet covered with baking paper and bake for about 15-20 minutes. at 170 degrees.
---
---