Breakfast Pita with Vegetables and Egg
As breakfast is the basis of every day, I could not miss this entry.
Breakfast Pita with Vegetables and Egg
Greek pita with lots of vegetables, ham and of course a boiled or fried egg as you like.I used ready-made pits sold in Lidl. 2 pieces in two packs. I recommend everyone to get a few pieces, because they have a long date, they can lie in the cupboard and wait for the perfect moment. Below you will find all the ingredients that I used, but if you do not like any ingredient, I recommend replacing it with any other.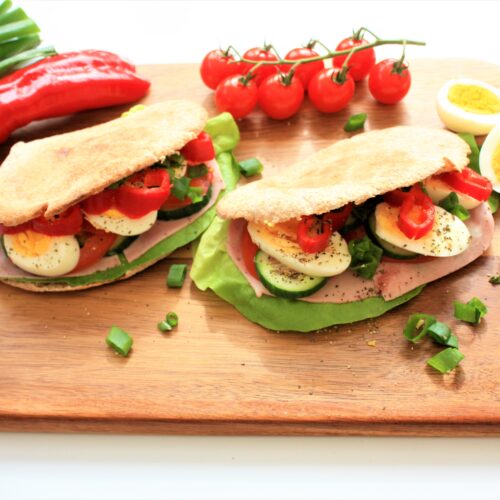 Breakfast Pita with Vegetables and Egg
In our country, flat wheat breads from the Middle East are associated mainly with kebabs served in a roadside booth. Wrong! You can put meat, cheese, vegetables and any other stuffing into the characteristic pocket in pita bread. Take them to work or on a trip – it's something between a sandwich and lunch.
Equipment
If you like you can add your favourite cheese. I recommend mozzarella cheese or brie cheese.
Ingredients
2

pieces

greek whole grain pita

1/2

fresh pepper

2

tomatoes

half

cucumber

2

leaves of lettuce

1

tbsp

chives

2

pieces

ham

1

pinch

salt, pepper

1

tbsp

butter
Instructions
Prepare the pitta according to the package directions. Boil the hard-boiled eggs. Brush the pita with butter, add lettuce, ham and chopped vegetables. Ready-made seasoning with salt, pepper and sprinkle with chives.
---
---