Zucchini Stuffed With Red Kidney Beans
Zucchini stuffed with red kidney beans is more than worthy for any nutritious meal; fat-free, high fiber, low carb and high in water content. Also containing high levels of Vitamin C, K & B6 as well as potassium and manganese.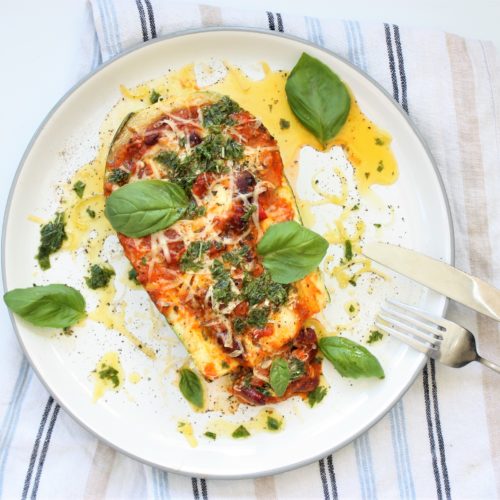 Zucchini Stuffed with Red Kidney Beans
Crunchy zucchini boats filled with vegetable stuffing with the addition of red beans will work as a dinner for your guests.
Ingredients
1

peaces

Large zucchini

1

large tomato

1

pepper

1

onion

2

cloves

garlic

1

can

red kidney beans

4

tbsp

tomato passata

1

tsp

sweet pepper

1

tsp

curry

1

pinch salt, pepper

60

g

grana padano cheese

1/2

mozzarella

50

ml

30% cream

1

tbsp

sunflower oil

basil
Instructions
Onions, tomatoes, peppers, finely diced, fry in oil in a hot pan. Add the sliced garlic. Fry, season with salt and pepper. Fry until golden brown.

Cut off the ends of zucchini. Cut it crosswise into two equal parts, then lengthwise in half. Use a teaspoon to remove the seed nests.

Finely chop the pulp from the middle of the zucchini, add it to the fried vegetables. Add tomato passate and a little water. Season with sweet pepper and curry. Stew for 30-40 minutes. If the sauce thickens too quickly, add a little water. Add cream to the reduced stuffing. Add beans and mozzarella cheese. Mix. Cook for a while until the flavors combine.

Put part of the stuffing on the bottom of the oven dish (enough to cover the bottom). Arrange the hollow zucchini and fill them with the rest of the stuffing. Bake for about 20-25 minutes in an oven preheated to 190 ° C.

Combine olive oil in a bowl with lemon juice and finely chopped mint. Mix.

Put zucchini on a plate. Rub the granona padano cheese on a warm stuffing. Pour zucchini with dressing.
---
---